As we departed Gothenburg I thought about the 13 years Roland and I have been sailing in the North Sea and Baltic.   Whether it was a long weekend or our summer 4 week holiday,  there were destination goals in that allotment of time.  Consequently it meant going out in weather or conditions that were less than desirable and always a feeling that we needed to keep moving.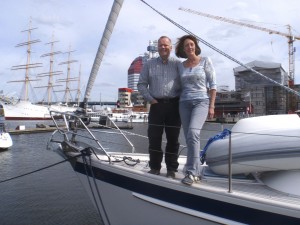 Now we embark on a new life style where we will be allowed to spend time at places we enjoy or Spend that extra day or week required while waiting on better weather conditions.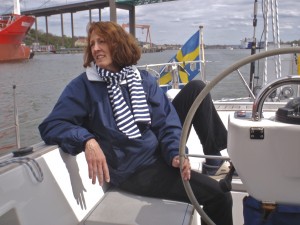 Bella Luna is now  lying in a marina on the Danish Island of Läsö while  strong winds pass through.   As it is early in the season the village is like a ghost town and we share a large marina with 3 other visiting boats.   Heavy rain discouraged us from exploring yesterday so Roland decided it was time to run "ANOTHER" cable through the boat so I escaped to the laundry room with my Kindle.    Today we will take the bus to  town in the center of the island for some exploring.