It has been a windy week with 4 gales in 8 days. And it is not over yet!
But as we have time, we have been sailing the other 4 days. From Läsö we sailed to Grenå and later on to Ballen on Samsö.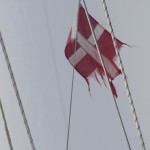 Today we arrived in Nyborg on Fyn. It was 8 degrees Celcius and the fourth gale was starting to blow.
We are a little bit embarrassed over the Danish flag that have been suffering in the high winds. But we will get a new one as soon as we find a store that is open.
The marina had two more sailboats. Both HR.