We arrived in Kiel on Friday to WARM spring weather.    The season was much further along than in Sweden or Denmark.   Everything is much greener and it was a very welcome feeling, not to mention shedding all the layers of clothing we had been wearing the past week.    It was the first time since we left Gothenburg that we felt we were really on our adventure.
Today we traveled the Kiel Canal, (Nord-Ostsee Kanal) and it took exactly 7 hours.   There were no delays on either end with the locks.   Boats are allowed to motor a maximum of 8 knots in the canal.   We did a fairly steady 7 knots.
It was a very scenic trip with the added pleasure of listening to all the birds sing along the way.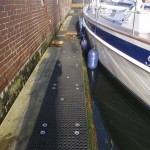 People were so friendly waving and tooting their bicycle horns from the pathway along each side of the canal.
For any of you considering to transit the Kiel Canal,   there are floating pontoons in the locks so longer mooring lines are not required.    Hang the fenders as low as possible,  actually in the water.
We also recognized that this early in the season there are MANY cruisers already underway for the season.      Several boats from Holland, some English and a American  were all heading towards the Baltic.
When we exited the lock into the North Sea the tide was running out so the sail from the lock to Cuxhaven Marina was accelerating, as the speed over ground was as high as 10.6 knots.