After the engine repair we did a test run to Falmouth to make sure it was working O.K.
Our original plan was to sail to Brittany in end of June, before the holidays starts in France. But with the delay, and the fact that the weather on the other side of Biscay looked much better we decided to skip France.
We started the 430 mile crossing from Falmouth on July 23. Weather forecast was light winds and sunny weather.  Light it was, 4-8 knots.  We had to motor the first 300 Nm.  Our safe range is app. 600 Nm. We use about 4 l/h at 6.7 knots.
It did not take long until we spotted the first whales. When we passed the continental shelf the dolphins came and entertained us for hours.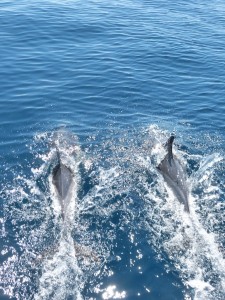 The last 100 Nm we could sail in nice 15 knots wind.  The crossing took 70 hours to La Coruna.