In Marina Coruna we finally met lot of others cruisers with exiting goals. It was happy hour every evening.
La Coruna is the provincial capital and the second largest city of Galicia. There was always something new to explore. On of the most well known buildings is the lighthouse Hercules. It is the oldest working lighthouse in the world and is on the world heritage list. The first thing we noticed in the marina was all the fish. Each boat had their own private aquarium. The water is very clear.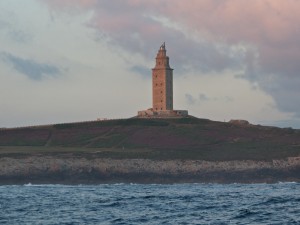 We stayed in La Coruna 8 days. On Wednesday Iris and Hans arrived who is going to sail with us for some weeks. Iris and Hans have been cruising on BL several times and are always welcome on-board. We had a very nice dinner at one of the many seafood restaurants  the first evening. It became a late dinner and we decided to delay the departure with one day next morning as some of the crew was complaining about headache.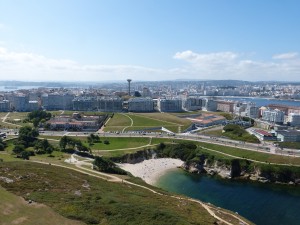 It was an early morning when we started the trip to Camarinas. Ria Camarinas is just before Cape Finisterre We had big swells but no wind. In the entrance to Ria Camarinas we spotted another Swedish yacht, Bess Safari Too who took this amazing picture of Bella Luna.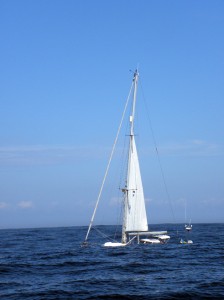 Camarinas is a nice anchorage with calm water as soon as you have entered the Ria. The town itself has some shops and the normal restaurants that you expect to find. Across the small bay from the town you can anchor next to sandy beaches.
Next day we continued to Finisterre. It was a wet day with rain, fog, and big swells. We anchored inside the breakwater of Finisterre
Next goal was Ria Muros further south. We got a nice sail in light winds. Weather improved immediately as we entered the Ria Muros. Cape Finisterre is a divider for lows coming from west. They are pushed up north in to the Bay if Biscay. It was 2-3 degrees difference between Finisterre and Ria Muros.
Water temperature is around 18. Iris is a tough lady and has been swimming in all anchorages so far. The fishermen are busy every morning at sunrise (0715) in their small 2-3 man boats using nets.     You could hear them singing or whistling while working. In one anchorage, Orust Sweden was well represented with a Swedish flagged Najad, a Swedish flagged Malö and us.
We are now enjoying 26 C weather!