There are 4 Rias south of Finnisterre and each one has something different to offer.   After the cape our first stop was Ria de Muros where we anchored across the bay from the marina in Muros. We all enjoyed this area very much, both the anchorage and the village. As I wrote prior, we were entertained each morning with the local 2 man small fishing boats putting out their nets for 45 minutes at a time and then collecting them while singing or whistling and saying   Hello,  Hello as they came quite close to the boat. This anchorage had 3 sailboats built on Orust, Sweden, and all Swedish flagged.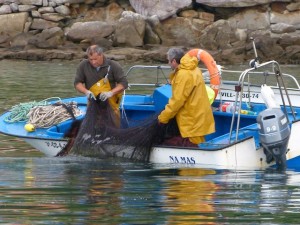 Next is Ria de Arousa, which is the largest.   There are many anchorages to explore. We chose a fishing village the first evening and were only one of two sailboats anchored there.   The fishermen are VERY active and noisy in the early hours from this small harbor on the island of de Arousa. So the next morning we went a short distant to where we found a wonderful anchorage next to a sandy beach that lies between Point Barbafeita and Point Caballo. We were enjoying the wonderful sunshine and within a few minutes the whole area was completely engulfed in heavy fog.  You could not see the beach. This lasted for several hours and cleared at sunset.   Next morning awoke to fog again. We experienced this several times in the rias. It comes in fast and blows out just as fast or can lie for several hours.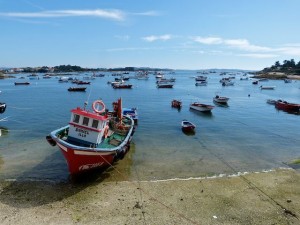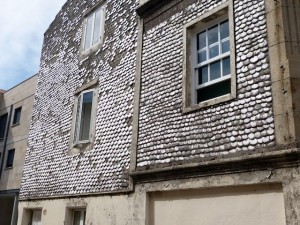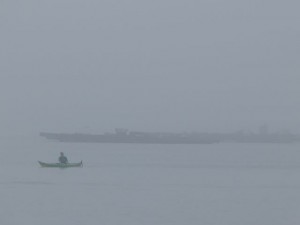 We then crossed a short distance over to Caraminal. There is a nice anchorage off the marina in front of a large beachfront.  The harbor fees are very reasonable if you chose to go into the marina. The village had a lot of offer.  Iris and I took a swim from the beach but we both decided it was much better to swim from the boat at anchor.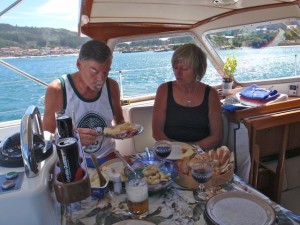 We could of spent much more time in this Ria but decided to move on.  Roland received an email from a Swedish couple on their 41-foot boat lying at San Vicente (Porto Pedras Negras) and recommended that we stop there. The winds were light and in the proper direction to allow us to anchor off a large sandy beach to the open sea. We took the dingy ashore and found a marvellous boardwalk along the waterfront going west. We immediately found a café facing one of many protected swimming coves and enjoyed a Galician beer and watched the people. Walking through the small village with all the beautiful villas and manicured gardens it was obvious this was a popular vacation destination for the Spanish.  Billy and Maria on S/Y Miss Brazil, invited us to their OverSeas 40 that evening for coffee and subsequently we met up with them several times more along the way. Billy and Maria are also members of JRSK. We all voted this was a favourite and wanted to stay another day but coming winds shifts were not going to allow us to stay anchored comfortably.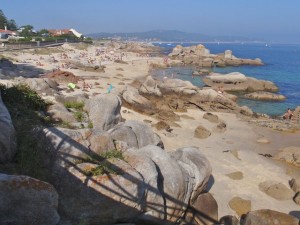 Which then brought us to Ria de Pontevedra which I voted the most beautiful. So many sandy beaches, and picturesque hillsides. Our first evening took us to Bueu.  The vantage point from anchorage was lovely but once in the town it was quite boring. We recommend to anchor off the beach to the right of the commercial pier, but unless you are in need of the food shop, enjoy the stay on the boat.
We then sailed to the head of the ria where we anchored for the afternoon behind isla Tambo.   The water temperature hit 23 C, so Roland decided it was now "reasonable" to swim. Combarro is just a short distance from the island and we chose to specifically see this village because of the restored fishing village of massive granite and surrounded by vineyards. We all enjoyed this experience and the photos speak for themselves. We spent 4 nights first because we liked it but also because of arriving weather. Our weather report said there would be higher winds but did not predict anything close to what actually developed. Early evening a large Spanish coast guard boat arrived and moored when the winds were around 20 knots.  We all commended "why aren't they out helping possible distresses"? They knew something we all did not. At 01.00 the winds hit 45 knots in the marina. Every boat owner was up and adding lines and fenders. Everyone was sound asleep on the coast guard boat Medemblick.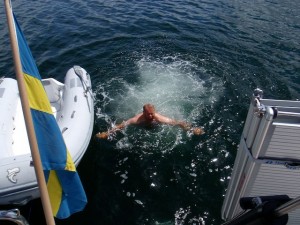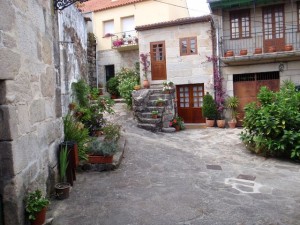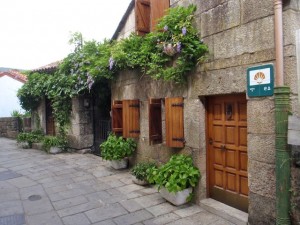 The winds also brought rain so we took a bus trip to Santiago de Compostela and to Sanxenxo (which is a popular summer destination for the wealthy).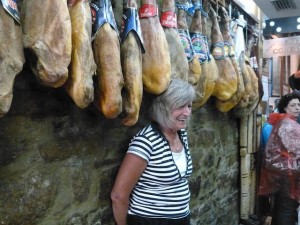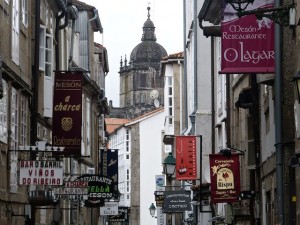 Our last stop before arriving Vigo, was Ria de Aldan which lies SE of ria de Pontevedra. This was a very protected anchorage with large beaches. You could listen to the waves washing ashore all night. This was the most crowed anchorage we had encountered thus far.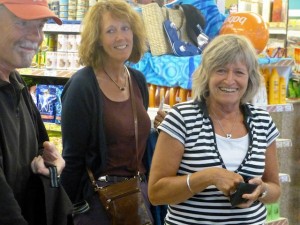 It was time to get to Vigo so Hans and Iris could catch their flight back to Sweden.
A note to fellow cruisers, during the month of August the marinas in the Rias always had availability.