If you never have checked/serviced the Anti Syphon valve for the engine or generator it is time!
The anti syphon valve prevents water from siphoning in to the exhaust system of the engine. When the exhaust system is full, the water will flood the cylinders.
There is a big risk that you bend the connecting rod when trying to start the engine, as water cannot be compressed.  If the water sits in the engine for a number of days you also have corrosion damages.
If you bend a connecting rod, you are most probably buying a new engine.
Accordingly to my experience the anti syphon valve, is one of the most neglected things on board, due to lack of knowledge or understanding.
There are two types of anti syphon valves available. Service depends on what type you have.
Anti Syphon valve with a membrane
Valves with a membrane should be cleaned regularly. In addition to this the membrane should be changed. If the membrane fails to open the valve is not working and there is a big risk for flooding.  It is difficult to check if this type of valve is working, as the normal function is that the valve is closed when engine is running.  But in order to work, the valve has to open when you stop the engine.
There are different manufacturer of this type valve. Follow the maintenance advice from the manufacturer.
Anti Syphon valve whiteout membrane
This is a safer construction as there is no valve that can fail.  The principle is that they are always open. The water that flows thru the valve and drain in a hose that is led overboard.
If the valve or the hose would be clogged, the valve stops working. The service you can make on this type of valve, is to clean the valve and make sure that hose between the valve and the outlet is open.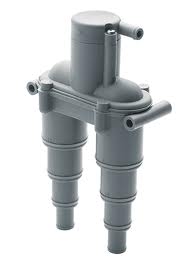 If you have your boat serviced by professionals, do not take for granted that they have done the service. Better safe than sorry.