It was blowing a cold and strong Nortada during our week in Cascais. The boats heading north had a hard sail.
When we left Cascais weather was nice, with light winds from the north. Our goal was Sines. Sines is more or less half way between Cascais and Cape Vicente.
The outer breakwater in Sines was damaged by a storm and the end of it is under water. Make sure you to have the red marker on your port side when approaching Sines. There is always big tankers going in to Sines. Quite a busy port.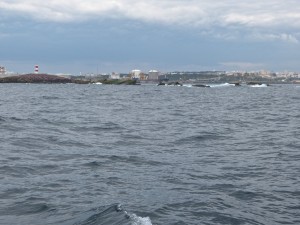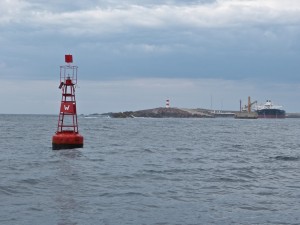 The marina in Sines is small with a friendly reception. WIFI was also working great in contrast to Cascais, were it has been close to non-existent.
There is always a surge in the marina.  You can not see it, but even in calm weather the boat was moving and riding the dock.  It is  probably a better option to anchor outside the marina, but inside the breakwater.
We stayed one day extra to explore Sines. There is local market for vegetables and fish. They close at 14.00 officially. But unofficial it is earlier ! Better to be there early. There is also a nice old town with restaurants etc.