After a day in Sines we continued south. Again it was light northerly winds. It is early on the season at not many boats on the water. During the day we did see two other boats heading south.
When we rounded Cabo de Sãu Vicente, the sea was calm.  There is another climate, as soon as you come around the cape. You still have northerly winds but it is warmer due to the winds have been warmed up by the landmass.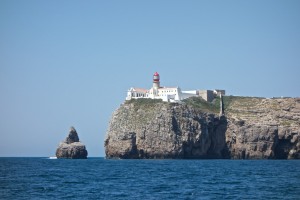 The characteristic Algarve red/brown cliffs with small sandy beaches in-between, starts already at the cape and go all the way to Lagos.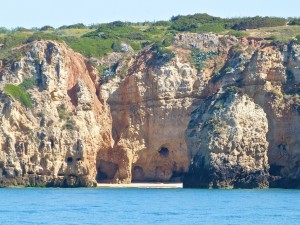 Around the corner there is several bays for anchoring. We anchored in Ensenada de Sagres. Out came the barbecue and we had a nice steak with res wine to celebrate this milestone in our cruise.
Everything was great until midnight. Then the boat started rolling from side to side as there was a swell came in to the bay. It was difficult to sleep. Two boats left in the middle of night. Our intention was to stay on anchor for some days before we sailed to Lagos. But early in the morning we took up the anchor and headed for Marina Lagos.
We later heard that this swell comes when there are Easterly winds blowing in the Gibraltar Straits.