There are many adjustments to cruising for long periods of time.  We all have experienced our 2 week holiday attitudes where "anything goes" in the way of food, drink, being relaxed and lounging more than usual.  I remind myself that cruising is not a holiday but a lifestyle, therefore continued fitness is important.
Walking or bicycling is a large part of cruising for exploring and shopping.  Being at anchor in a lovely bay is also a big part of cruising so I have on board a few "easy to stow" aids for a workout on deck: A set of plastic covered dumbbells, WOSS strengthening straps, ankle weight and a mat. A 30 minute routine can achieve good healthy results.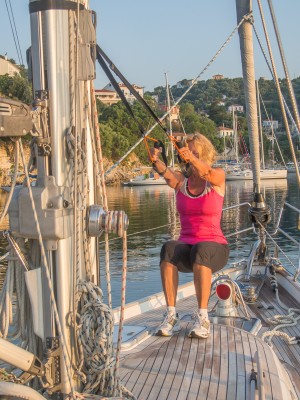 I recently purchased the WOSS strengthening straps and those alone can provide a good, efficient workout.  I have seen others doing YOGA on deck. Stretching is also important to avoid injury.  Boat chores and sailing can introduce strange positions and contortions for the body.  To counter all the sitting, consider a long period of standing at the helm while sailing.  Last but not least is swimming!
The bonus is the beautiful scenery and fresh air for your workout versus the indoor gym!