Marti Marina is a very nice resort / marina. The outdoor restaurant is set among the pine trees over looking the water. Off to the side is the bar and pool area. Full service spa, several boutiques, market, beach club, yacht club bar and a 32 room hotel. All this surrounded by wooded mountains on 3 sides. Miguel arrived to Bella Luna very late after his flight from Barcelona. We had a leisurely breakfast and then departed for our first anchorage.
Kuruca Buku is a nice bay on the east side with good protection. In the evening we went ashore and took a long walk along the isthmus between the east and west bays. There is a large holiday village where we assume people own apartments and use them as a summer residence. There was also a camping area and remnants of what must be a large outdoor weekly market.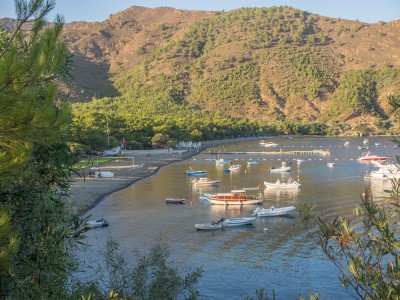 Unexpectedly we ended up in the west bay the following night as the anchorage we were in off the village of Datca had a wind shift and was blowing quite hard into the bay. So after a wonderful lunch at a very traditional turkish buffet kitchen and a walk around, we pulled up anchor and arrived to the bay just at dark. We are so happy for our bright aft deck light, mainly for grilling purposes.
The next day sail was perfects winds for our next destination, Bozuk Buku. Here is a large, secluded, deep bay with 3 restaurants, goats and donkeys. After a hike up the hill to see the ruins of a citadel we went to dinner. I spoke of cats at most of the tables in Greece. At this restaurant we had foxes on the beach next to the restaurant.
The next anchorage had a cow on the beach standing under a tent for shade. He stood there for sometime, then layed down for a siesta in the hot afternoon and then later wandered off. Here we found the warmest sea temperature so far: 28.9 C.
As Miguel must return back to Barcelona tomorrow we arrived at the Marmaris Netsel Marina. The Grand bazaar kept us busy for the afternoon. Marmaris is perhaps the most touristy small city we have visited. The pier for the larger skippered charter boats, mostly the Turkish Gulets, is at least 1 km long. Marmaris also has a very impressive number of businesses related to the marine industry. The US based company, West Marine, is here. But as the many night clubs blast their music into the night sky, it is time for us to find another peaceful anchorage away from city lights for the arrival of the 3rd Super Moon.