Hans and Iris arrived to KOS May 21st after much effort due to the threatened SAS Swedish pilot strike started on the 21st. In the end it did not stop their departure from Gothenburg (due to a Danish pilot flying), however… did require a overnight at the Gothenburg airport.
With southerly winds pushing us we made repeat stops at Leros and Patmos. Iris has the same enthusiasm for swimming as a Labrador dog. On the third day she had her first swim. Big smiles now on Bella Luna. On Patmos we anchored in the same bay as our friends, Monica and Mike on Stravaigin.
LIPSOS is a smaller island with a quaint sleepy village that provided us with calm protection at anchor from the SE winds. Our second stay on Lipsos, in a different anchorage, provided great entertainment. There is a small island within the large bay and on this island were sheep and goats. We witnessed 4 men and 3 dogs gathering the animals, using lassos in some cases. (Brought back memories for me as a former cowgirl.) A small Greek fishing boat arrives and all the men and animals board this small boat. As they passed us, we clapped and waved, as they proceed to the shoreline where they unloaded the sheep and goats and lead them to a nearby field. We were speculating that perhaps one of them would be on tomorrow's menu at the Taverna in the bay. Later the skipper of the "goat boat" came by to sell us locally made marmalade.
SAMOS island, referred to as the "Diamond in the Rough" of the Eastern Sporades was the perfect place to be for 6 nights, due to weather conditions. We rented a car one day and toured the island, visiting several traditional villages in the mountains. Samos is a agricultural island, producing several wines, most recognized for their sweet white wines. We enjoyed one of the wines with tasty local fresh strawberries. Faros Restaurant, where we dined several times, always provided great food and good laughs. The brothers fish and their sister Stella greets guests Mamma is in the kitchen. Stella is full of life and has a great sense of humor. She was attracted to Hans and gave him quite a joking hard time. A lovely family!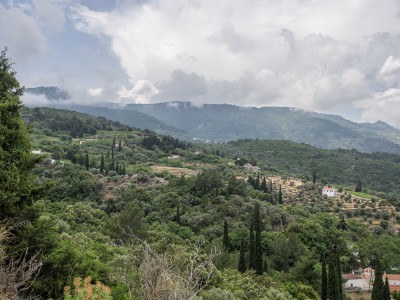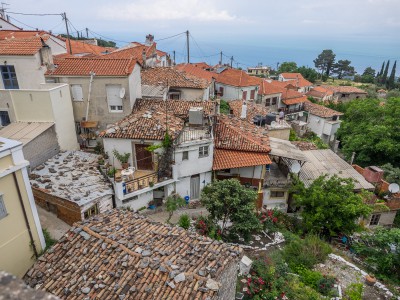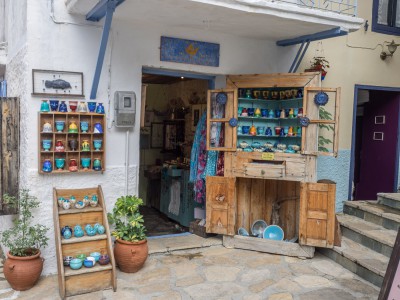 LEVITHA Island is inhabited by a family. Five members in the winter and when the children return from school in the summer there are twelve. This will always be a memorable place. It is a 15 minute walk up the hill on a goat path at best, among the sheep and goats, to the farmhouse where they have a rustic outdoor restaurant. They serve fresh fish or lamb from their farm, and homemade wine. The setting could not be more authentic. The smell from the big outdoor wood burning oven for baking bread certainly stimulated the appetite. The restaurant is powered by wind generators and solar panels. After our delicious dinner, our walk back down to the harbour was aided by the light from the full moon, so our flash lights were not required. The only motorised vehicle we saw on the island was a small tractor and a motorcycle.
The next morning we departed at 0700 to hopefully get ahead of the coming strong north winds. We had a beautiful sail for about 3 hours and then the winds hit earlier than expected with building waves. It was a long day with wind gusts up to 38 knots so our evening anchorage was welcoming. These winds kept us moving in small passages for the next 3 days until we arrived to…
PAROS Island, village of Paroikia. Here is a nice big bay that provids shelter and a short dingy ride to the village. We were very pleased with the performance of our anchor sail that kept Bella Luna much more still in the continued winds. Iris, with her Viking Blood, swam with the water temperature of 18c. brrrrr Paroikia provides entertainment with several nice local shops and many very nice restaurants that one must seek out on the narrow side streets, away from the "tourist streets". Iris's sister and husband arrived for their 2 week holiday so we had two nice evenings with them, before Hans and Iris had to leave on the ferry to Athens to catch their flight.