The start of the season was a little bit later than normal.  When we got down to Malta we had two days to get the boat ready for the launch.
On Tuesday she went in the water at the Manoel Island Boat yard on Malta.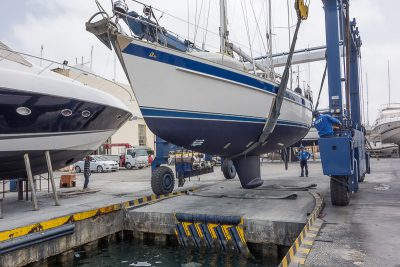 We motored over to Msida marina and tied up at the guest slips on the inside of the breakwater. It was a long list of things to do and we had no problem filling the week.
Just across the street we did find a little chandlery, White Sails.  On the wall they had a Yanmar sign.  I asked them if they had time to change the hoses and the antifreeze?
Next day Daniel shoved up and did the work.  Daniel is one of those guys who you can trust.  He managed to change all the hoses and the antifreeze without creating a mess in the engine room.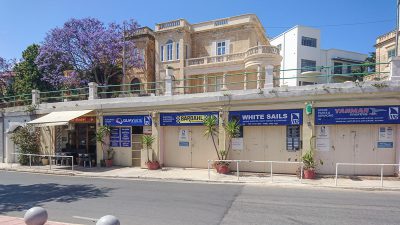 Next door to White Sails we did find Yacht Café.  Yacht Cafe is open between 9-3 and serve breakfast and lunches.  Maria and Sergio are the owners and they will make you feel at home. The food is inspired by the middle east cusine.  Wonderful meals we had there.  Do not miss to visit Yacht Cafe if you are in Malta.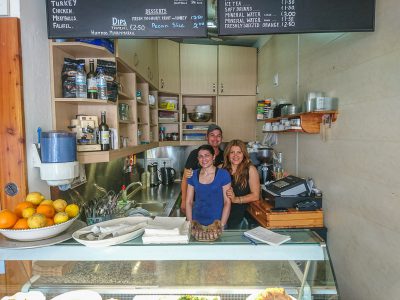 We experienced a rare occurrence.  It started early morning when we noticed the gangway was first hitting the concrete pier and then a minute later it would be 1.0 meters above the pier.   The water level changed 0.5 to 1 meters for at least an hour.  A very strong current carried garbage in and out.   The road at the end of the bay was under water for a short time.    Vickie referred to this as the "Malta Tsunami".    Local reports say this was caused by waves and currents that hit Sicily and bounced back to Malta which has a shallower seabed than Sicily.
We could get no further information on this technically other than the old timers say there are many atmospheric changes that has caused this several times over the many years.    It is a fact that Malta has had some very unusual weather the last 3 weeks, not typical for this time period.
At the end of the week Anton Cachia from Action Sails came with our sails.  He had done service on all our sails. Anton is one of those rare types that actually shows up on time and has done exactly what you agreed on.  If you have any sail or canvas work we can highly recommend Anton.
Sails are up and we are ready to go cruising!