In between Lanzarote and Gran Canaria lies the island of Fuerteventura, the second biggest island in the Canary chain but the least populated. The island is barren but has some of the best beaches of the island chain. We stopped at Gran Tarajal that had very little evidence of tourists and is a very nice Spanish town. Good stores for food, hardware supplies and marine items. The marina we found to be very adequate and the port authorities are very friendly.
This island is quite popular for immigrants coming from NW Africa via the sea as it is roughly 50nm, but in a small rubber boat or as we heard on the VHF radio a small wooden boat, it can be a long trip if the winds or waves change while enroute.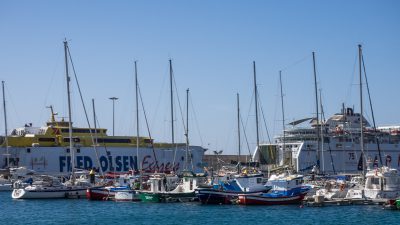 We moved further down the east side of the island to Morro Jable. Well, there is not so much I can say about this other than there is a anchorage inside the large breakwater if one needs to wait for weather. The marina is for local fishing boats and ferries.