Do you have a proper logbook?
I have never really been able to keep up with the logbook in paper format.
I investigated different possibilities to use modern technology.  MaxSea has a logbook function. But but as it requires that the computer is on all the time, it is not that useful. Computers uses a lot of electricity!!
Instead I was looking for an application that I could use in my IPAD. The IPAD is quite an energy efficient computer.
I did find an APP, Boat Log that is very simple to use. With the IPAD 3G version you can use the built-in GPS. (Only the 3G versions have the GPS chip!!) The built-in GPS reads in the position from the GPS for every entry you make, it also calculates SOG and COG in tracking mode.  If you want to see a track on the map, you can configure the software to track the boat in real-time. As a bonus you get the ODO meter (tracked distance). You can leave the IPAD inside the boat. The GPS is sensitive and will read the position thru deck on most GRP boats.
I did try this APP on the Atlantic crossing with Feelin Good when we did the ARC 2011.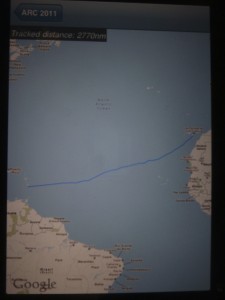 It worked really nice. You can see our track on the picture above. The only thing I was missing is the possibility to export or print out the data.  The only way to see the data is to use the APP on the IPAD. This is a major disadvantage.
I do not think coastguard would be impressed if I handed over the IPAD in case they wanted to see the logbook? But perhaps more important, IPADS do not live forever!
Consequently I continued my search for a better software.
I downloaded another APP, Sailbook, A similar software as the Boat log. Sailbook has the export function. You can email and convert the data to a pdf.file.  That is great. Unfortunately Sailbook do not have the continues tracking possibility and the automatic transfer of COG, SOG and ODO meter.
None of the above software replaces a handwritten logbook.  Boat Log has a very user-friendly interface, but are missing the export function.
Sailbook has, the printout possibility that Boat Log is missing, but are missing the functionality of the Boat Log.
When the IPAD is in tracking mode it uses more electricity. But as it can be left plugged in at the chart table this is not a major problem.
If anyone knows another software for IPAD that can do what I´m looking for, please drop me a line.