Thursday afternoon we arrived to Six Haven Marina in the heart in Amsterdam.   You cannot ask for a better location.  It is a very short walk to two different foot ferries  (no cost)  that take you across the canal to the Central Station.   A walk through Central Station brings you directly into the heart of Amsterdam city center.      Six Haven Marina is small but they are very talented at maximizing as many boats as possible into the marina.   The trees that surround the marina buffer the noise from the city center.    The staff is extremely friendly and helpful.
Amsterdam is a city that can completely entertain you by simply walking around.
By walking, I mean avoiding bicycles, mopeds, scooters and cars.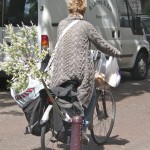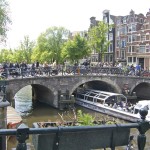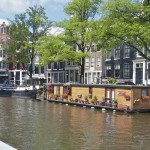 The streets are narrow, the buildings are charming as are the canals with all the various floating canal houses.
The diversity  the city offers is immense.   You have majestic churches,  a large choice of museums, the ever famous red light district and the popular "coffee shops".   For my American friends a coffee shop here is a small pub type setting where you can enjoy a beer and a smoke of marijuana  (legally).    Cafes offer espresso and their popular apple pie.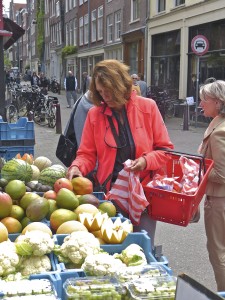 A  Malö  37 from Stockholm arrived in the marina so we invited him for coffee.   Sven is also heading south, so as I write we are both inside a lock awaiting  the bridges in Amsterdam to be opened starting approximately 2400.   The standing mast route through Amsterdam has several bridges that open only at night, so car traffic and train traffic are not interrupted during the day.   The convoy of boats gathered will take approximately 2.5 hours to transit this portion of the canal in the early morning hours.    This night belongs to "Bella Luna" with clear skies and a full moon.