For  years past Hallberg-Rassy boats had a system in the drawers that stopped them from falling out if they opened accidentally.     It was a small gray plastic stopper.   Over the years at HR Parts, I had several requests for replacements of those plastic stoppers.  Unfortunately the manufacturer stopped production years ago.
Our boat, as many other HR models did not have any system to prevent the drawer from coming all the way out.   Here is what Roland introduced on our boat:
If you have the Mobella locks, you should cut away the part in picture 1.   When the boat heals over items in the drawer can shift against this peg and open the lock accidentally.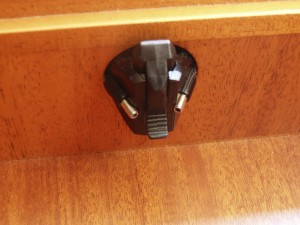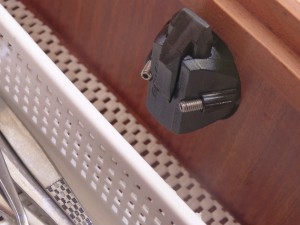 Even more important, is to screw a wooden peg in the aft end of the drawer, seen in picture 2.   These prevent the drawer from falling out in case it was not shut properly, or overloaded.  What drawer is not overloaded!
One screw is enough, and makes it easy to turn the wooden peg in case you want to take the drawer out yourself.      A simple solution you can do yourself.