Lifting the boat in the wrong position can cause big damages to your boat. Unfortunately it it is not unusual that boats are damaged when lifted out of the water due to lack of information.
Lifting over a hull intake can cause leaks. Lifting the boat with the sling over the propeller will not only damage propeller, propeller shaft. It can easily destroy the propeller tube and the hull with complicated and expensive repairs.
Make sure you know how the straps should be placed before lifting the boat.
If you have not done it already use your camera and take some pictures next time you launch your boat. Print out the pictures and have them in your boat folder until it is time to lift the boat.
As you can see from the pictures it might be quite narrow. Off course you should pull in transducers etc. before lifting.
I did improve the marking on the inside of the toe rail. Instead of one marker that is put on by the yard, I marked it with two arrows. No doubts were the sling should be positioned!
Improved marking: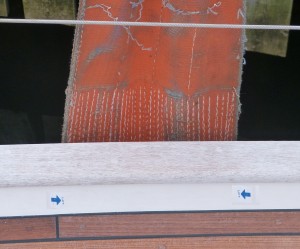 Markers can be bought from Hallberg-Rassy Parts. (Same markers that you might have already, but pointing horizontal instead of vertical.)