As we are waiting for my grandson Vilhelm to come and visit, we have to rent a car to pick them up at the airport. Vilhem is only 6 months old and does not travel alone yet. His mom and dad will also sail with us for some weeks.
We have been touring the western part of Algarve today. We drove to Luz and had a nice lunch. The town was quiet but has a nice beach.   Vickie was so happy to find a very well stocked natural/organic food and products store.
After lunch we drove to the Cape to get another perspective on the view. No boats to see. We stayed at the beach and talked to one of the locals that stands on the cliffs and fish. It looks dangerous as they are standing only 1 m from the edge of a 50 m drop.  When they get a fish they have to lift it up 50 m!!
At the Cape there was a fantastic view in all directions.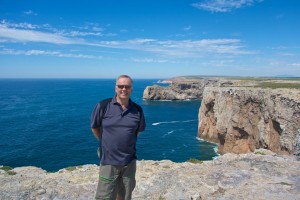 Then we drove the coastal road north, through a nice pine forest. We opened the windows of the car to smell the pine. Fantastic…
At Amado Beach the surf was quite high so the surfers  were active.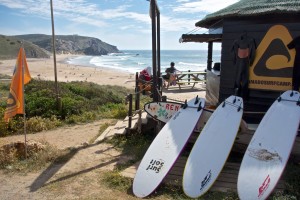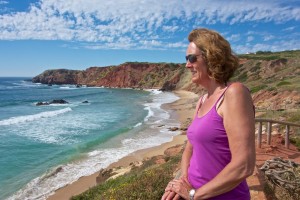 Finally we took the car out on the point  with all the caves in Lagos.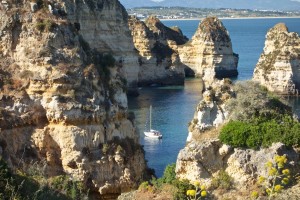 Tomorrow we will do the Monchique region.
.