Weather has been a  bit chilly the last week with constant strong winds.    We have stopped all the Marinas between Lagos and Faro.; Portimaou, Albufeira and Vilamoura.
Portimaou is a nice marina but it is a fair distance to any major food shopping, however a short walk to the very touristic  area along the beach front.  The Marina in Albufeira offers very good protection and has become quite popular for those staying over the winter.   The development around the marina is like a ghost town.  Many shops are closed, and unfinished building sites.    We did not walk into the main city.     Vilamoura  Marina was surrounded by dozens and dozens of restaurants and shops.     You could understand that this would be  a "hot spot" for activity in the high season of July and August.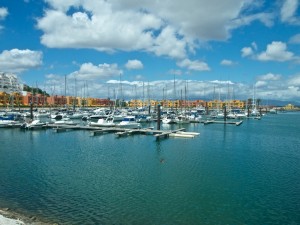 After the rain had passed we arrived at our favorite spot, the island of Ihla de Culetra,.  There is a small little fishing village just east of the entry to the Ria Formosa Lagoon.
There are a lot of sand banks in the Lagoon that become visible at low tide. In-between there are channels with enough depth  to make the lagoon navigable.
You find a number of small restaurants in the village of Culetra. Fresh fish guaranteed!!  Even a very small bakery.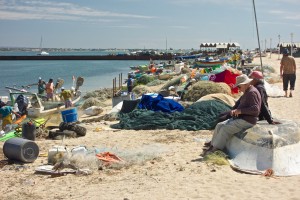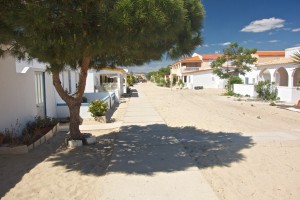 In the anchorage there are a number of boats on anchor or buoys that are waiting for their owners to return for the season.    There is one boat on the beach as shown that offers speculation on how it got there?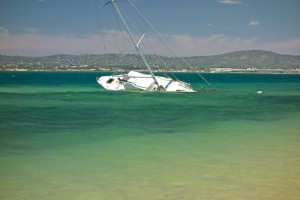 The anchorage is open for West winds and there is a 50-60 cm chop when the afternoon breeze blows with 30 knots.
The island has fantastic sandy beaches.  We walked along the  south beach to the village Farol at the lighthouse. After lunch we took the northern beach which offered unexpected adventures due to a lagoon.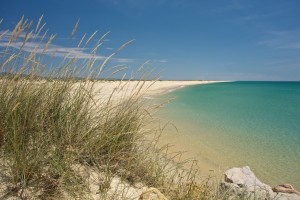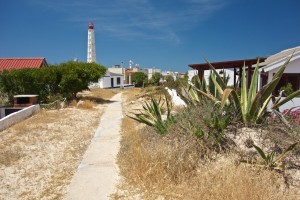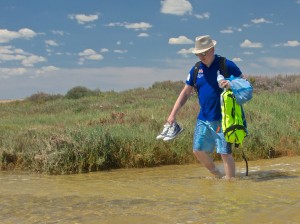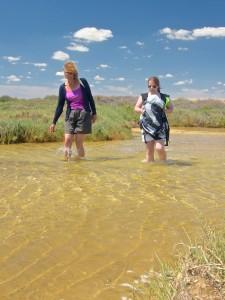 As it was time for Jimmy, Jenny and Vilhelm to return to cold and rainy Sweden, we took the channel  to Faro where the airport is located.   We anchored to the side in the channel as close as we could to shorten the dingy ride into Faro's small boat harbor.      Faro is a lovely town, famous for all the storks and their nests  and a walk through old town (Cidade Velha) should not be missed.