Leaving Ragusa to Porto Palo we had a slow sail but a very special friend along the way. A dolphin stayed with the boat for hours swimming along side us. He was the biggest dolphin we have seen and he was alone which is not common. We all felt there was something wrong and felt bad but he seemed to enjoy our attention.
The next day a few hours from Siracusa, Hans got a very large fish on his rod which immediately took out 200 meters of line and then just snapped off. Roland and Hans were visiting a fishing store in Siracusa for BIGGER and HEAVIER line and lures. Iris and I asked "what are you going to do if you catch a BIG fish"? We never received any replies.
Knowing we were going to do sightseeing, we chose to go into the marina next to old town, Ortygia, so everyone could come and go as they please with ease. There is also a large anchorage (Porto Grande) that is protected with good holding close to old town.
The weather continued to be unstable for our crossing to the heel of Italy. As we had plenty to see and do we were not unhappy to be delayed. Siracusa has one of the most beautiful and interesting public markets each morning. We purchased the most wonderful tomatoes (just like out of Grandma's garden), cheeses, breads, delicious oranges, strawberries (we all agreed they were as good or better than the Swedish strawberries) and fish. One morning we had a second breakfast just with the ample samples they provided.
I had purchased herring in Malta in anticipation of a Swedish midsummer celebration with Hans and Iris. With the lovely strawberries at the market we decided to celebrate in Siracusa. Iris prepared her very good gravid lax (salmon)
and we ENJOYED a very good pre-midsummer celebration.
The old town offers narrow streets, many restaurants, shops and buildings going back as far as the 6th century BC, Temple of Apollo. The Neapolis Archaeological area is within walking distance of the marina.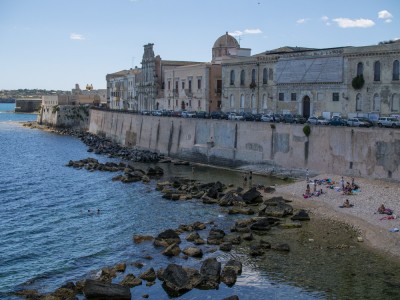 We took the 25 minute train ride to the town of Noto south of Siracusa. Throughout the 18th century, following the terrible earthquake of 1693, the destroyed town was busy with reconstruction, run by the town planners. Today the Baroque architecture is unique in Sicily.
THE HEEL OF ITALY
On the fifth day the weather stabilized so we got a early start for the passage to the heel of Italy. Our route took us close to land at one point so Roland could connect to internet. Indeed, his third grandson, Benjamin, arrived that afternoon in Brazil.
At 0200 Iris and I had some excitement. Without running lights a fast, large inflatable boat approached from our stern and using a bright spot light I was unable to see who was approaching. I waved and their light persisted. Scenarios started running through my head. They then shouted "ITALIAN WAR SHIP". At this point I could not see any formal identification on their boat so I asked Iris to wake Roland. Immediately they took down the light and it was then I could see Guardia di Finanza. They asked some questions, did not seem interested to board and drove away as fast as they approached.
34 hours after departure from Siracusa we arrived to the marina at Santa Maria di Leuca. We topped the diesel tank with good Italian diesel (non bio diesel) and then proceeded to get some exercise. A monumental stone staircase next to the harbour was built by Mussolini as a ceremonial gateway into Italy. 278 steps later we reached the top which offered spectacular views. Tomorrow we would depart for Greece.