Fiskardho is located on the northeast point of Kefallinia. We enjoyed this quaint village so much we stayed 3 days. There are several well marked trails, an abundance of restaurants and shops but all in a very relaxed calm atmosphere (at least this time of year). Our last evening, while dining outside, we were "entertained" by a thunderstorm that rolled through. Our large umbrella managed to keep us fairly dry and the lightning bolts were some distance and not directly overhead so we chose to remain at our table and enjoy our meal. No matter where you are in the islands, when dining outside you will always be accompanied by one or several cats waiting patiently next to your table in hopes of samples.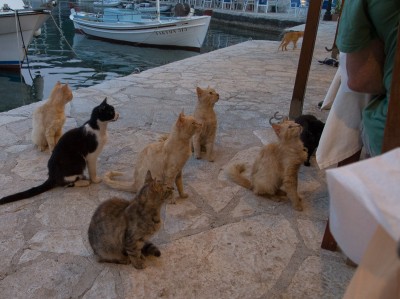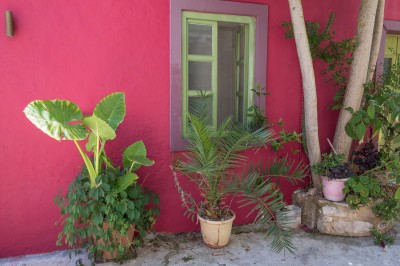 After finding a beautiful bay on one of our walks, the next morning we left the moorage early and went a short distance to anchor for a swim and breakfast. A very lovely spot!
We then went around the north end of Ithaca and down the east side and spotted a attractive bay. There are some unmarked rocks on some charts but Roland's IPAD charts showed them all so we we proceeded. That evening a charter boat coming in was not so lucky as he hit one of them doing about 6 knots. There were at least 6 people on board, one of which dove into the water immediately to check the keel. They slowly backed away and as they slowly moved on we heard laughter on board so I assume no one was hurt and the boat was not taking on water. There was a small trailer on the beach with a man selling drinks and some food. We took the dingy in to have a beer and met a nice German couple and shared a table with them on the beach. They are sailing a Hallberg-Rassy 38. They have been sailing these waters for many years so invited us to their boat the next morning. They provided us with a lot of helpful tips for our continued journey.
From our boat Roland spotted a large cat lying in the shade next to another beach. It was large enough to spot with your eyes. We both estimated it was the size of perhaps a Bobcat after looking closer with the binoculars. Roland got his telephoto lens and took some picture but in fact it look very much like a "normal" cat – perhaps on steroids??????
Kioni is another very cute village and here we used our newly purchased 50 meters of nylon line for securing the stern to shore.
My favorite place was the coffee shop with her wonderful colors, flowers and friendly dog to greet you. She also had good fast wi-fi.
Vathi is a long narrow bay with a village at the end where the winds gusts coming over the high hills can really kick up in the afternoon. We had a good anchor test in the afternoon and watched many come in during these high winds trying to either anchor or go stern or bow to the quay. There was a fair amount of chaos for 2 hours. At sunset, the winds stopped like a flip of a switch.
Again, you get the feeling you are on a lake surrounded by the high hills and mountains.
The next morning when lifting the anchor she was buried good in heavy mud and small rocks. It took some time to clean the anchor. As the winds were little or nothing we were able to stop at a beautiful spot and anchor for lunch and a swim. It does not get much better with turquoise water and steep cliffs rising sheer from the sea. We were anchored just off a small pebble beach. As we knew it was not prudent to spent the night here, we reluctantly lifted the anchor.