The information in our cruising book talked about many possible problems in the Rhodes Marina such as getting your anchor caught on other ground tackle, a open space does not necessarily mean you have take it. So we were apprehensive upon entering the harbor. We did see a open slot that did not require our anchor as bow lines or lazy lines were hanging from the pier. So in we went. Within 30 minutes we were told we could stay one night only in that spot or move to another spot.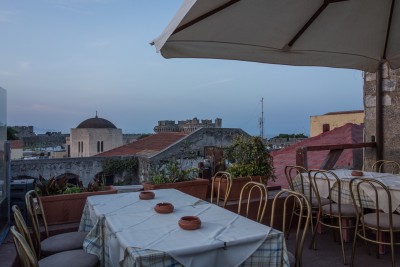 I required help in getting a Notary Public signature as trying on my own was hopeless. Long story short, I was referred to a lawyer who speaks english. Yes she could help me and could translate the necessary documents and assist me with getting what I required. My appointment with her was set for the following week so we decided to leave the marina the next morning with a reservation in place for our return.
We arrived to Lindos, which was once the principal city of the island before the founding of Rhodes in approximately 400BC. It is a superb natural harbor with a grand Acropolis which was used as a fortress in antiquity, as well as in Byzantine times, in the period of the Knights of St. John and of Ottoman rule. The climb to the Acropolis is the same steep road as in Antiquity. It was quite impressive to visit.
The village of Lindos, minus the tourist shops, was very charming with its narrow streets that wind among medieval houses. What was most unusual about this village was the morning alarm. In all other Greek villages, you always wake to the sound of roosters. This village is awoken to the sound of a donkey bray, that would make Pavarotti proud. The donkey also had something to say during the day and evening as well. For those who find the steep climb to the Acropolis or some of the steep streets too much, there are donkeys for hire that will give you a lift. Quite amusing to have the donkey "station" share the same building as Alpha Bank.
Back in Rhodes we toured the old town that is quite large and very interesting and picturesque. We met a Swedish lady, Karin, who has a leather clothing shop within the old village walls. We chatted with her for sometime before continuing our tour. And then THE STORM: We cannot remember being in a continuous thunder and lightning storm that lasted for 3+ hours. The rain was very heavy, hard, sometimes hail stones and continued for the same duration. There was flooding problems in the city and some of the Greek store owners I spoke to had never witnessed such a event.
Having successfully completed my business the next day we departed for more exploring of the surrounding islands.