Galaxidhi offers a charming harbour with nice smelling pine trees and little small sandy inlets for swimmers on one side and the town on the other side. A "street dog" befriended us here. I was sure he belonged to someone as he sported a nice leather collar and flea collar but two of the locals confirmed "FREE – NO BOSS". He was lying on the pier next to the boat each morning and accompanied us on morning walks, to coffee shops laying at our feet and also when we went to a restaurant, lying under the table. We learned after 2 days that the town people call him Mytos.
We caught the bus to explore Ancient Delphi, reported to be one of the most spectacular and beautiful classical sites in Greece. I would certainly agree as it sits among ravines and steep rocky cliffs on the side of Mount Parnassos.
It was at the bus transfer stop that we met a Australian sailing couple, Doug and Jan. We toured the site of the ruins and the museum with them and spent the evening together back in the village.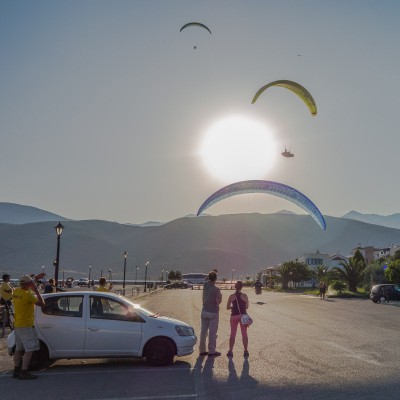 Trizonia Island was a nice place to spend a couple days at anchor in the bay. The villa sitting on the hill above us played some wonderful music often and there was also the serenade of the large crickets during the day. The little square in this fishing village was so charming to enjoy a morning coffee or evening meal.
Passing under the bridge that connects mainland Greece and the island of Peloponnisos we exited the Gulf of Corinth and entered the Gulf of Patras. We spent 2 days in the marina in Patras doing maintenance and cleaning. Patras is the third largest city in Greece. On the 30th of June the Greek Banks and the stock market closed as the "crisis" deadline was approaching. We witnessed the long lines at the bank machines. Each Greek was allowed to take out 60 Euro per day. Otherwise, to us, it seemed like business as usual because the cafes were full and music festivals were performed next to the harbour.
Sailing across to the Ionion islands of Cephalonia and Ithaca we spent a week taking it easy before returning to mainland Greece to the marina where Bella will stay while we return to Sweden for a a short break.