Our sail from Union Island in the Grenadines to Trinidad was a overnight sail with fair winds and current in our favor and kind seas. Bella Luna was a race horse so we had to reduce sail twice to slow her down as we did not want to arrive Trinidad in the dark.
As we approached, we had a gorgeous sunrise with brilliant colors and greetings from some playful dolphins.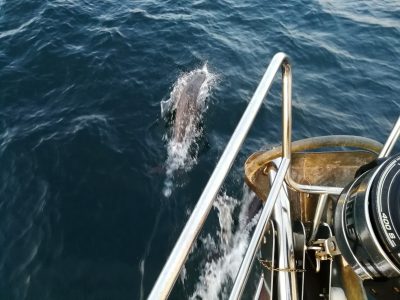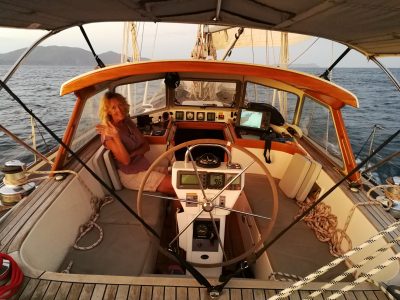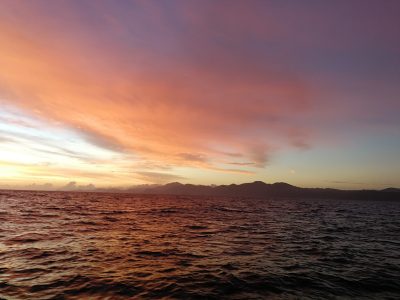 Going through a narrow cut between the islands it was lush but warm and humid even at 0630. Trinidad, in our opinion, certainly has a different feel to it than the Caribbean islands to the north.
After a long walk to Customs and Immigration, their "dress code" of long pants and a shirt with sleeves, in addition to this very hot/humid climate, we experienced a new level of perspiration!
The ATM that is within a short walk from the boat yard was robbed, they actually tried to steal the whole machine. So this meant a taxi adventure to a Mall for the next closest machine. Auhhhh…… being in a air-conditioned place for a few hours was such a relief.
After a week of getting up at 0600 to start work on the boat before the sun got to hot, Bella is now ready to be lifted out of the water where she will stay.
The last hurricane on Trinidad was 1932 and we have all our toes and fingers crossed that this season will continue with the normal weather pattern and another season of avoiding the Caribbean hurricanes.
More than keeping our fingers crossed we had to order additional straps and a metal cradle to meet the requirments from the insurance company.
We also hired Dwayne Schuffler to look after Bella in our absence. Dwayne has been very good keeping us informed how Bella is doing.