At the time of our departure on May 6, all boarders were still closed for all islands in the Caribbean with no hints of when they would reopen and IF airports would open so we could fly out where  we left the boat for the new owners.
So the plan the 4 of us decided on is we would sail BELLA LUNA I, her new name, to Brunswick, GA in the United States.    We made contact with immigrations there to make sure we would be allowed in and had a reservation at the marina.         You cannot believe some of the horror stories we heard from other sailors caught at sea when boarders closed and were turned away, back to sea.   
The first two days was good sailing and we were making good time.    The morning of the 3rd day, all came to a halt as there was a "significant weather event" approaching directly in our path further north.    We then slowed our speed to 4 knots to allow the weather to pass in front of us.   When we knew it was ok to speed up, the winds shifted from SW to NE, which meant we now had hard winds on the bow.    Not.   Good.    So we slowed again hoping they would shift, or at least the wind speed would reduce and wave heights.    We passed through a zone in-between storms that was quite eerie.   It was now nightfall and  on my watch I felt like I was in the Alfred Hitchcock movie, "The Birds".    They were quite aggressive around the boat and screaming.    There was zero wind, flat seas and a white haze.   This was 9 hours of motoring.   When we came out on the other side, the air was fresh, less humidity and blue skies.    We were able to sail and decided we would trying to go all the way to Brunswick.      Within 1 hour the waves were very large, wind was very high and we knew we could not keep this up for 3 days.   We then diverted into the Bahamas for shelter.   We arrived at 9PM and was told NOT to go into that anchorage in the dark, so our only option was to continue sailing all night to come to another anchorage, which we arrived to at 6AM.    We stayed there a couple hours until we heard the new forecast for a tropical depression coming straight at us so we pulled up anchor and went to the other side of the island and entered a type of hurricane hole, providing protection 360 degrees.    The storm was predicting 60 knot winds with heavy thunder, lightning and squalls.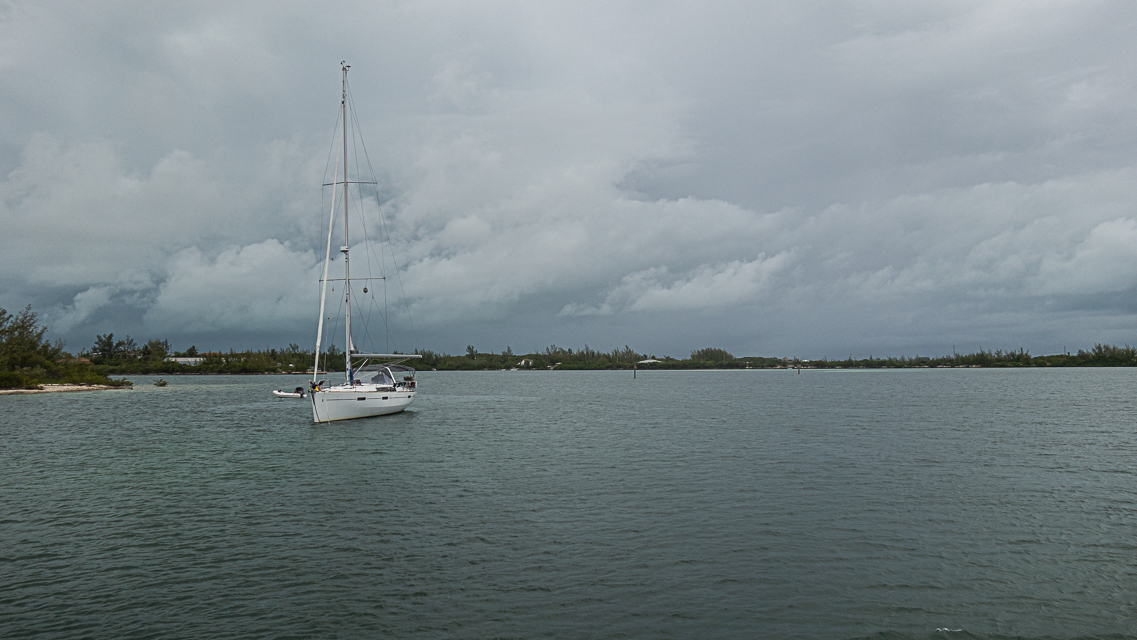 We never got the 60 knots but everything else.   That tropical depression later developed into the first named storm of the hurricane season, Arthur.   
We left 2 days later and had a nice sail to the West end of the Bahamas but due to heavy thunder storms predicted the next day, we anchored in a nice place and waiting.    At 0300 on the second day we pulled anchor and headed for our final destination.   We passed more than 10 Cruise ships that was anchored due to Covid.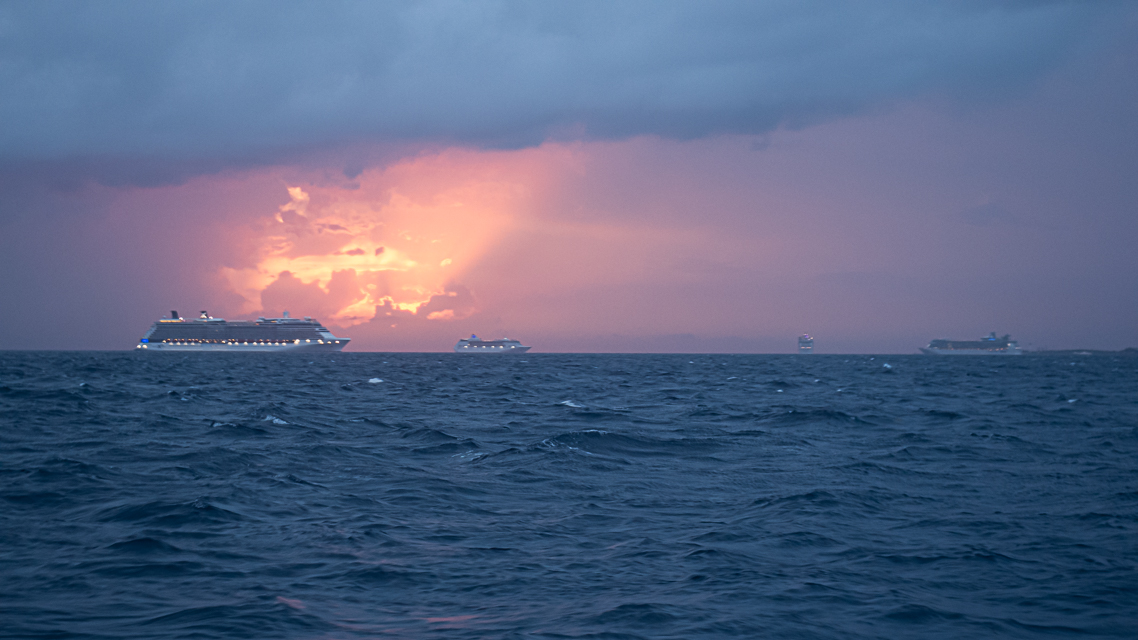 That day there was only one major thunder squall to avoid and the rest of the sail was very nice.  The stars were very bright.    Once we were into the Gulf Stream, our average speed over ground was 10 knots and for sometime we hit 12 knots.     
We arrived to Brunswick Landing Marina in Georgia 38 hours later.   Here we will prepare the boat for storage and say our goodbyes to Bella Luna who took us so many places in comfort, style and safety.   
For us, our new adventure will be driving our newly purchased motorhome from Georgia to Washington State.   This will provide us  independence during this COVID situation and sightseeing.