I was born in the United States and was raised on a farm in eastern Washington. My mother's grandparents immigrated from Denmark and homestead the acreage. The land is still in our family and is producing wheat, barley and mustard seed. My passion growing up was horses so when I entered high school I went from years of western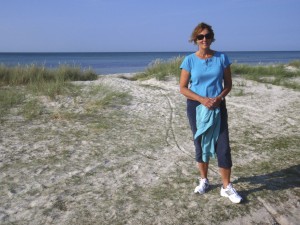 pleasure competition to rodeo competition and this continued until I was in my late 20s.  I traveled the country competing on a professional level.   Imagine the look on my parents faces when I told them I was quitting my first job out of college to travel and compete. It turned out to be very successful and allowed me to grow my independence before returning to a career in medicine.
My family had power boats so my brother and I did a lot of water skiing. Enjoying being on the  water I decided to try sailing when I moved from Spokane to Seattle. I instantly took a liking to the sport and cruised and raced in Puget Sound and the San Juan Islands for several years. I wanted to experience sailing on the open ocean so I signed on  with Mahina Expeditions  and sailed from Victoria, British Colombia to Hawaii and found the experience very inspiring. I then  sailed from Seattle to San Francisco and it was a thrill to pass under the Golden Gate Bridge.
After working in the medical profession for 14 years in Seattle, I decided it was time for a change and began selling boats on Lake Union in Seattle which later led to selling new Hallberg-Rassy boats. What a transition in my career from helping people at their worst with illness to helping fulfill their dreams with a boat.
After several trips to the Hallberg-Rassy Yard and getting to know Roland, I decided to move to Sweden in 1997 to start a life with him and also to start a company, HR Parts that would supply spare parts and accessories to Hallberg-Rassy owners worldwide, today  Hallberg-Rassy Parts AB.
Roland and I have had some marvelous sailing trips as he mentions in his story and those trips enticed me to want to see more. How wonderful to have the opportunity to explore during the day and return to your home on the water in the evenings.
Vickie Vance