We departed Porto with the outgoing tide and sailed to Figuera da Foz.   Here we met a Swedish boat "Solvind",  which we again met at the next port Nazaret and Lisbon.      In our opinion the only reason to stop at Nazaret is to meet the entertaining British harbour master who has lived there for many years.    He is a character and full of information.  He gave us specific navigation instructions which would keep us in the southerly flowing current to Cascais.    As we left 30 minutes behind 3 other boats who went closer to land where you find the northernly flowing current, we arrived Cascais much ahead of them.      It is reported that Nazaret harbour can be entered under any conditions, which is not always the case with many other harbours along the Portugese coast.
Our long day to Cascais for the most part was bumpy seas and light winds but we were rewarded the last two hours with 36 knots.    There are so many pots northwest of the entrance so it was a game to dodge them all .    We had visited Cascais some 10 years ago when we were sailing another boat to South France.    The marina has grown in size but unfortunately the wonderful food market that was at the marina has closed.     We stayed in the marina for 2 nights and then moved out to the anchorage where we met a Swedish family on a HR 43 "Meribelle"  We had been communicating with them before they departed Sweden and during their trip.   It was great fun to finally meet them and compare our boats.
It was a sad morning when we lifted the anchor and departed Cascais to head up the river to Lisbon where we would start to prepare the boat for winter.    Marina  Parque dos Nacoes  is very protected and nice facility.  Again, very friendly and helpful staff.  It is a 10 minute walk to a large indoor mall with a very large super market which will deliver free to the marina.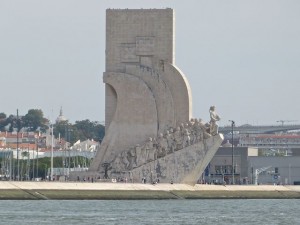 After the third day we then proceeded across the river to Tagus Yacht Center in Sexial on high tide so we could transit the dredged channel .   From a cosmetic point of view there is nothing positive to say about the yard.    The owners and staff however more than make up for the lack of nice amenities.  They are extremely good at what they do and go out of their way to help.   We were very pleased with the lift and blocking the boat.      This is a yard for cruisers so it became a instant small community.   Several are living on their boats  while on land  doing projects or wintering.     Tagus Yacht Center also allows owners to work on their boats which is a big plus as many yards  forbid owner participation.       The yard is run by two brothers and their father, who at age 73 still comes to work everyday with his hard hat  doing manual work.     Both brothers speak very good English.      Prior to our arrival they coordinated with another company for a custom cover,  based on Roland's drawings.   As promised, it was delivered ON TIME.
With the cover in place and all projects checked off, we said our goodbyes and headed for the airport.         Our reflections on the first season were mostly positive.   Unfortunately everyone sailing from the north had to endure bad weather until late July.       It took us longer than expected to get into the "cruising mode" mentally, meaning to slow down and take it easy.   Roland likes to keep moving to reach "the goal" and I enjoy staying and enjoying places that are appealing.   The Spanish Rias were wonderful because we were able to anchor the majority of the time and swim.    It was fun to continually see the same boats along the journey.      Understandably, it was a very odd feeling for both of us to stop in Lisbon while others  continue on.    Cruisers have different goals and different time frames.  For us we experiment with sailing 6 months a year.    We did stop approximately one month earlier than planned mostly due to the yard we chose in Lisbon.
We now fly to Malta for a week to visit with several friends who just happen to have Hallberg-Rassys :  40 classic, 46, 53 and 54.    This extends our escape from the cold weather reported in Sweden a bit longer.