We anchor a lot and a good dinghy is important for us.
The first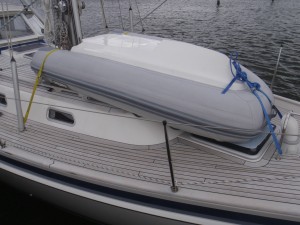 dinghy we bought was a roll up. I could just squeeze it in the cockpit locker,  But it was a fight every time. Not something you would like to do several times/week.
As we did discover that we hesitated to get the dinghy out of the locker, we decided to buy a rib and store it on deck.
It is not pretty and it does obstruct visibility forward.  However it is easy to lift in and out with help from  the spinnaker halyard, and the halyard winch. When you upgrade to a rib, you actually go from a dinghy that can take you ashore, to a boat that you can go several miles for exploring or shopping.
We have no problem launching the anchor, or tack the genoa.
Our rib is a Caribe L9. (2.7 m) It is  "light", just under 50 kg. Lightweight is important in tidal areas, where you sometimes have to carry the dinghy to safer grounds.
It is important to have points for strapping the dinghy down. We welded two fittings to the protection bar for the forward dorade, and two eye-bolts replaced the bolts in the chain plates.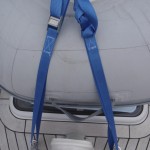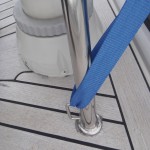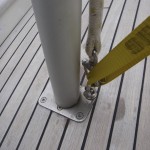 We have crossed the North Sea in gales with this setup whiteout any problems. But Bella rides the waves quite good and does not take that much water on deck.