When the AIS SART devices became available 4-5 years ago, we bought two RescueAIS. They are clipped on to our life vest.  The unit we have can be activated in two different ways.
1. Automatic activation when you fall in the water.  I think this is very important as the person will most likely be in shock.  Finding a small button in the water would not be easy.
2. Manual activation.
The idea with a AIS SART  is that the crew on the boat should be able to find and rescue the person in the water.
The AIS SART  is a portable device that includes a AIS transmitter and a GPS.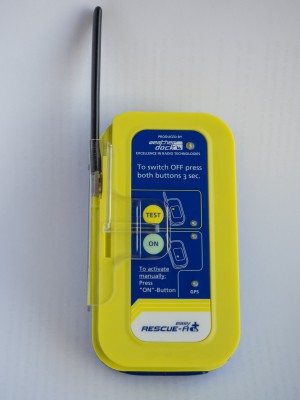 When activated it sends identity and position on the frequency for AIS.  If you have a AIS on-board  a target will show up on your plotter.
I have always wondered how this target would look?  
This summer we got the answer.  The AIS SART  was activated by mistake as it was jammed into the hanging locker.
I was looking at another AIS target that was lying more or less on our boat.  We sailed and this target sailed as fast and in the same direction as Bella Luna. No other boats were in sight!
After 1-2 hours the coin fell down, and I opened the hanging locker.  Sure enough, the little LED on the AIS SART  was flashing.
So now I know how the target looks on a Furuno Navnet 3D plotter. 
It looks no different from other targets (boats) on the screen.  The only difference is that the MMSI number starts on 9.  Off course it would be better if the target would be displayed as in the example below.   But as long as you understand how it will look, I do not consider it as a big problem.  How the target looks on your plotter, depends on the software in your plotter.  According to Furuno, the new software version 2.11, will display a proper SART icon.  
How it looks and sounds on a Raymarine Plotter you can see below.
Other options for finding MOB and boats are PLB and or EPIRB.
The main difference between a AIS SART  and PLB/EPIRBS is following:
AIS SART  transmit position and ID to your own boat which means you can find and rescue the crew member yourself.  Other boats with AIS receivers that are also close to the MOB will also be able to help in the search & rescue.
EPIRB and PLB send ID and position over satellite to a rescue coordinator.  That might be the best alternative when you are in the life raft, but not swimming in the water as.