We departed Malta at 0630 with our friend Karolina on board. As we departed the harbor I prepared breakfast which we enjoyed while sailing along the coast of Malta. The 10 hour sail to Sicily proved to be a bit more choppy and tough than the forecast so the first sail of this season gave all three of us some minor sea sickness symptoms, even Roland after 45 years of no seasickness. Arriving Ragusa Marina, a walk to the local village and a late afternoon coffee and Sicilian delight was the perfect cure!
With unstable weather we slowly made our way up the south coast. One stop was at San Leone Marina where we quickly grabbed a taxi to take us to the Greek "Valley of the Temples" in Agrigento before sunset. The breath taking Doric temples were built approximately 400BC dedicated to Zeus, Heracles, Concord and Hera. For me, this was one of the most impressive and spectacular sites we have seen in our travels.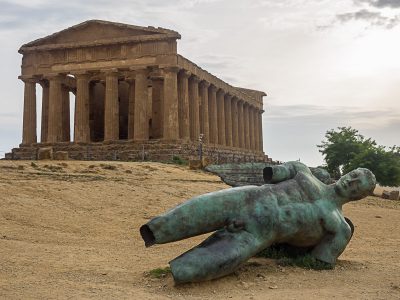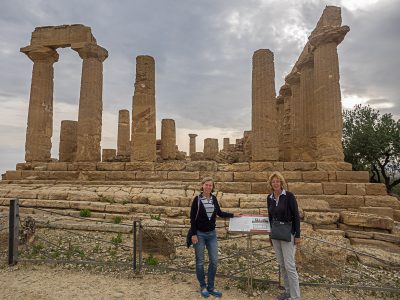 Next day we pushed on to Trapani on the west coast where Karolina would fly back to Malta. Roland was ill with a virus that I had earlier so he stayed with the boat while we explored Erice. Roland and I had visited this two years ago and enjoyed it so I wanted Karolina to see this small village perched high on a mountain top. We reached the medieval village via cable cars.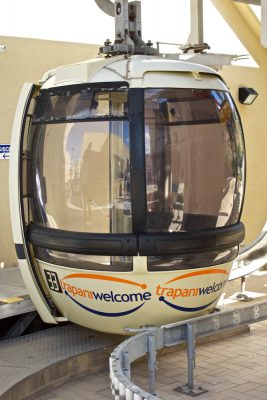 This walled in village has many churches, narrow cobblestone walkways, and stone houses with interesting doors. Hand crafted ceramics and hand made woven rugs are prominent for this village. We dined for lunch in a old stone house where we tried the speciality of this area, Cuscus Pesce with a fish stock. By the way, the cuscus is hand made. We were told we must try a very special pasty made in Erice called "Genovese". This pastry is filled with either ricotta cheese or a vanilla cream. Incredible! We could not of picked a better day weather wise. Nice temperature, no wind and sunshine.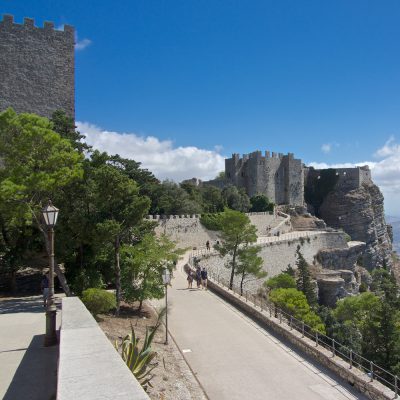 The next day we toured the streets of Trapani before Karolina had to leave for the airport.
We departed for our 24 hour passage to Sardinia. As the sunset we were sailing comfortably and having dinner. On a short passage we take 3 hour watches so I took the midnight to 3 and Roland 3 to 6. It was a very dark night with thin clouds and only patches of stars until about 1am when the bright moon broke through the clouds. It makes such a big difference sailing in a moonlit sea.
We had dolphins with us for most of the trip, some playing in the wake of the boat for hours. The faster we sail the more playful they become. Dolphins are very calming for me. When I am feeling anxious about sea conditions and dolphins arrive, I immediately know all is ok. When I awoke at 0600 to relieve Roland from his watch, there were many dolphins so I enjoyed my cup of tea, listening to music, the sun breaking through the clouds and entertained by all the many dolphins. Bella Luna was sailing 8.5 knots so they were very energetic. Not many times you start the day in such spender.