What do you do when your electrical or hydraulic in-mast furling does not work is a quite common question?
All powered Selden  furling masts have the option to furl in or out the main sail manually with a small winch handle. Unfortunately furling manually, takes a lot of time, due to the high  gear ratio.  More turns than what is practical. After furling it in manually, you would not consider to unfurl it again!
A more practical way is to use the drilling machine that you might already have on board.  On our boat we can furl in the sail, in 40 seconds with the help of a small drilling machine, if needed. Fortunately it has not yet been needed.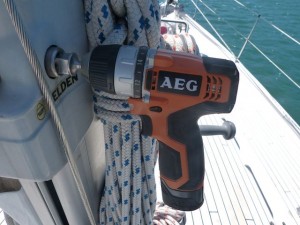 The adapter in the picture works with all hydraulic mast and head sail furlers.
It also works with the first generation electrical in-mast furling from Seldén. (Grey motors externally mounted on the mast as in the picture)
The only thing you need to buy is the adapter between the drilling machine and the electric motor.  This adapter is available at Hallberg-Rassy Parts.
This adapter makes it possible to continue sailing until you have fixed the problem.
If you would like to see how it works start the Video below.